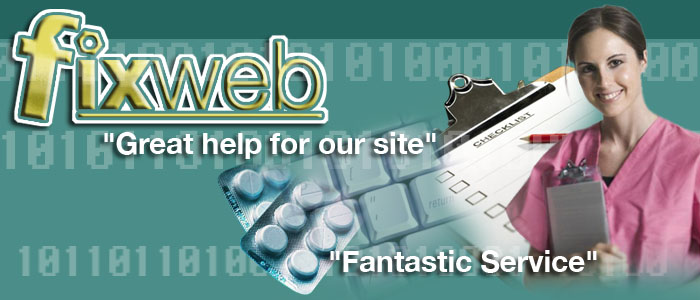 Home

Search Engines
Google Optimising

Testimonials

Questions
Search Engines

We will check the written content of your site against your keywords and categories to ensure you have the best chance of getting better google ranks. We ensure your site is search engine friendly with Google, Yahoo, MSN etc.
More…


What Links Does Your Site Have?

We will find your current links to and from your site, and suggest additional link strategies to help with better search engine results.
More…
What Does it Cost?

A full evaluation of your website will cost
£95
. Tell us your website address and we'll send you a full report within
48 hours
to your email address. We'll suggest methods how your website can improve its performance in Search Engines like Google.
Welcome to Fix Web
There are now over 4 billion websites available on the internet with the figure rising each and every day. Some websites simply do not do the business or subject they represent justice by working too slow or using poor HTML (web language) script.
We certainly will not be critical on the design of your site, but we will suggest opportunities how you can improve the search engine ranking of your site.

For example
Plus loads more. With all your competitors also available on the net, is your site successfully competing against theirs, or would you prefer the advantage?

The solution is here with Fixweb. We offer a full written report on your website, with suggestions how it can improve. Simply click on the Paypal Buy Now link on the left panel, and list your website URL (address). We will invoice you securely via Paypal to the email address you give us.

We guarantee to improve your websites performance after implementing the report results!
Simple More?